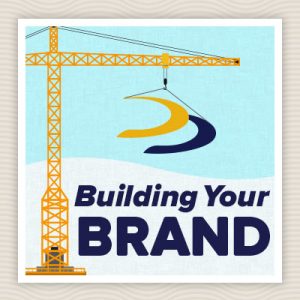 Part 2 of PDA | Marketing Group's Branding Series. Click here for Part 1 – Branding 101: Stop!…Before You Brand
Whether you're fresh out of dental school and starting your own practice, or a seasoned dentist looking to expand and start a new one, one of the most important first steps in developing your business is building your brand. We know this can seem like a daunting task, that's why PDA | Marketing Group is here to help every step of the way—from deciding on your mission, vision, and values to translating them into a set of colors, fonts, and a logo that will speak to your ideal demographic.
Cultural Discovery Process
The cultural discovery process is all about digging deep into your core values – who you are and why you do what you do. This is how we develop your mission and vision. These should be clearly defined before you get into details like colors, fonts, and logos. If you haven't already, check out the first blog in our branding series – Branding 101: Stop!…Before You Brand – to dive deeper into this process.
Color Theory
Colors can have a huge impact on our emotions and our behavior, especially when it comes to the products and services we buy. Colors set a mood, attract attention, or make a statement. For example, yellow tends to make us feel happy and energized, red makes us feel powerful or determined, while blue tends to calm us down and evoke feelings of trust.
By selecting the right color scheme for your brand and office decor, you can create, or an ambiance of spa-like luxury. Your color scheme should represent who you are as a practice and speak to your ideal patient by creating the right feelings and atmosphere for them. Color can be your most powerful design element, if you use it effectively.
If you're interested in learning more about color theory, we highly recommend picking up the book: Color – Messages & Meanings: A PANTONE Color Resource. It's full of examples that can help translate the emotions you want your patients to feel into usable colors for your practice brand and décor. If you're feeling overwhelmed or lost in a technicolor whirlwind, PDA | Marketing Group has a nationally renowned color specialist, and branding experts on our team who can help you hone in on just the right colors for your practice.
Logo Creation
When it comes to showcasing your practice's image, your logo is crucial. It's a visual element people will remember; your seal of approval that marks everything you do as authentically yours. Your logo is how you communicate your values to potential patients, and how you establish a sense of trust and familiarity with your existing patients and your community.
It's OK if you don't know exactly what you want your logo to look like—that's what we're here for! Our branding and design experts will communicate all the details of your brand to come up with a logo that is memorable, and authentically you.
Brand Guide
Having a set of brand guidelines is essential for maintaining the consistency of your brand across multiple mediums and platforms. Your brand guide includes everything from your target demographic, to your mission, vision, and values, to your color palette, fonts, and logo options. A brand guide keeps your team on track and visual message consistent.
Branded Stationery
Once you've established your brand, it's time to bring it to life. Marketing materials like your business card, appointment cards, letterhead, and envelopes may seem fairly unimportant in the scope of your larger mission and caring for patients, but they are key pieces to communicating your visual brand. It's all about consistency and building trust through visual repetition. When current and potential patients see these materials, they understand who you are as a practice and they know they can trust you and what to expect.
Website – Graphic Design & Content
Your website and other marketing materials allow you opportunities to reinforce your visual brand. Keep in mind that online and other methods of advertising act as a visual invitation to your practice. Your logo, colors, and fonts should be an accurate depiction of the physical location.
This brand consistency is essential in giving potential patients an inside look at your practice before they ever set foot in the door. It's the place to tell your story and show what kind of practice you are. Providing an exceptional experience on your website will draw patients in and assure them of the exceptional experience they will receive in your office. Showing patients what to expect, and then meeting and exceeding those expectations, will give you the first step toward earning the trust of potential lifetime patients.
Here's an example of brand consistency across a website, brochures, business cards, mail items, and other practice-related material.
At PDA | Marketing Group we are passionate about helping dentists begin and successfully complete their branding journey. We hope you find this a useful tool in getting started, and, as always, please feel free to reach out to us. We would be more than happy to help you create a brand you and your patients will love.