I've Arrived: From $100 in the Bank to Generational Wealth in Less Than 3 Years.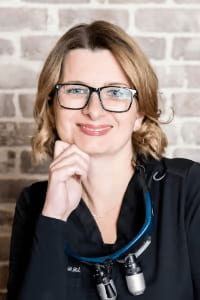 from Dental Entrepreneur – Winter 2023
By Dr. Maggie Augustyn
"Dr. Augustyn, you have created what we refer to as generational wealth in your practice," Kyle Francis of Professional Transition Strategies said to me after evaluating Happy Tooth, our general dentistry practice end of 2022. I think Kyle noticed an emotional reaction on my face, via the zoom call. Tears pulled from my eyes, and I fought tirelessly to prevent them from running amok. Having left the meeting, much to my surprise, I felt a loss of control, and I fell to my knees, crying, covering my mouth so as not to make a sound.
I was bewildered at my own reaction. I felt a combination of astonishment, gratitude, fear, and an endless sense of pride (something entirely foreign to me). You can work tirelessly your entire life, never expecting to hear those words. Is this what it felt like to 'have made it,' I wondered.
Have you ever wondered what your dental practice is truly capable of? Find out how Dr. Maggie Augustyn reached her full potential by working with Productive Dentist Academy in this must-read article.