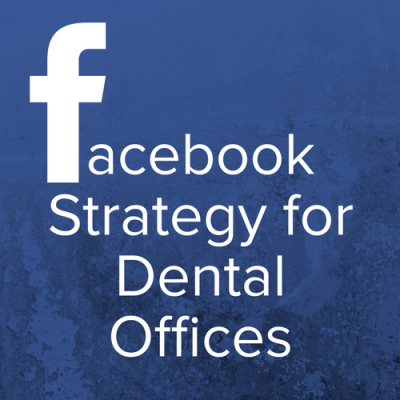 Facebook is the king of social media.
If not for Google and YouTube, it would be the most visited website in the world. The good news for dental practices is that, when leveraged intelligently, Facebook is an excellent platform for developing the relationship between your office and patients.
How Many Times Should I Post?
This is one of the most common questions we get asked. Having a page for your practice, but not posting frequently, won't do you much good. Facebook algorithms – the rules Facebook servers follow when deciding what information people should see in their feeds – place more importance on content that has a lot of action. This means you need to be creating content that will get people commenting, liking, and sharing.
Creating content can be time consuming, so here are some ideas for getting your message out to social media.
Include the Team – Have team members each take a day of the week where they are responsible for posting to Facebook. Just make sure you create and stick with a schedule. Or, you may have one team member who loves social media and is willing to take ownership of it.
Schedule in Advance – One of the best features available on Facebook business pages is the schedule post feature. This means you or your team members can create several weeks' worth of Facebook posts in one sitting, set them to send on specific days and times, and not have to worry about posting manually every day.
Creating Content People Want to See
Posting about timely, trending, and relevant topics people will get people engaged with your content. Here are some ideas:
Photos: Photos are the staple of Facebook. Show off your team, people being silly, gifts you've received from clients or referring offices, new technology, your office space, and more.
Videos: Videos are the best type of content. People on Facebook love them. Live or pre-recorded interviews with you and your staff, helpful tidbits, and tours of your office or someone explaining a new piece of technology will get people engaged.
Office Updates: Closed weird hours on a holiday? Updating your uniforms? Decorating for a holiday? Anything new or different happening? Post it to Facebook!
Tip: Don't forget the call to action. Show off that new technology and those amazing team members…then tell people to call you so they can experience it too. Example: "Check out our new scanner! With this scanner our docs can [insert benefit]. Call us today to schedule your appointment!"
60/20/20 Rule
A great rule to follow for content creation for a business is the 60/20/20 rule. (Important! While many people express personal opinions on their private Facebook pages, business pages should avoid anything regarding politics, race, or religion. Stick with the 60/20/20 rules and you'll be fine.)
60% Personal
This is the content your patients and followers will likely engage with the most. It is internal content from your office such as:
Photos of the office, team, patients (with written consent), events, etc.
Updates and reminders
Patient testimonials
Upcoming events
20% Promotional
This content will get people to pick up the phone and schedule and appointment:
New services & technologies
Contests & giveaways
New patients welcome
Leave us a review
20% Informational
This should be educational information that helps patients learn more about oral health (and showcases your expertise):
Educational blog articles
Facts & statistics
Dental industry news
New techniques or technology
Tip: Before hitting the post button, proof, proof, proof. Avoiding grammar and spelling errors helps keep your page looking professional.
Our Gift to You
With the help of PDA | Marketing Group's Travis Christians, Graphic Designer, we have created a Social Media Workbook to help get you on the right path to creating your social media strategy. It includes some of the topics, tips, and tricks found in this article, templates to help you strategize, and much more!
Enter your email to get your copy now!
Need more assistance with your online strategy? Please fill out the form below for your Complimentary Marketing Assessment to see how you can use effective online marketing to help meet your financial and personal goals.