More Than Just a Pretty Website: What SEO Really Means for Your Practice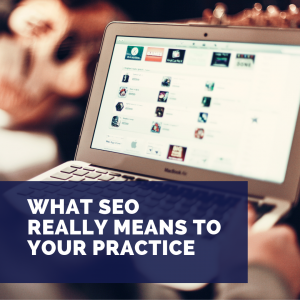 If you're not getting the new patient flow you want, you'll want to pay especially close attention to this article.
Simply put, SEO (Search Engine Optimization) is making your website more attractive to Google so when people are searching you turn up at the top of the results page. The problem is Google updates its ranking algorithm almost weekly. This means your website could be at the top of Google one week and half way down the page the next. Google does not openly admit when or what they update in their ranking algorithm, nor do they publish what the ranking factors are. That's where I come in.
It is my job to test, tweak, adjust, and test again, all aspects of a web presence to best determine what those ranking factors are so you stay at the top of Google and in front of the eyes of potential patients. While the details change weekly and monthly, we do know what influences rankings. I like to group them into three categories: Activities, Trust, and Onpage.
Activity
Google watches for traffic interacting with your website and pages. This can be visitors coming from social media, other websites, forums, direct traffic. The key is activity doesn't happen if you are not active. Some best practices are to be active on social media – post pictures, post exciting news, have fun – show Google you are human. Also, get out in the community, donate time, sponsor a local team, hold a fundraiser, make partnership…all of these activities expose people to your brand and create that memory of your dental practice. Give people reasons to associate your name with being the best dentist around.
Trust
Trust, generally speaking is how and where your brand is mentioned throughout the web. Google is looking for authority in the categories of your industry and your location. For the dental industry it is looking for mentions of your brand on top medical sites like WebMD or any education/associations a dentist could be a part of such as state dental boards. For location trust, you need to be part of the local chamber of commerce, BBB, and listed in the top directories such as Yelp or Yellowpages. This trust factor shows Google that you know what you're talking about, that searchers can trust your website.
Onpage
Onpage is how your website is set up. It is how it's coded, how the content is laid out, and where keywords are placed throughout the content and code. Optimizing the images and files for fast server response also improves your onpage score. Onpaging also looks at how your website is laid out: are users given a positive experience with your brand, leading them to reaching our goal of scheduling an appointment?
More Than Looks
Anyone can build you a beautiful website. But a beautiful website won't give you the same results as a website that's built with SEO in mind and constantly updated to keep you on the cutting edge of Google's algorithms.
If you're not getting the new patient numbers you want, we'd be happy to take a look at it your website for you and give you suggestions. Contact us today for a Complimentary Website Assessment and see if your website is staying up to date and doing it's job by keeping you top of mind of potential patients.