Proper Company Promotion: The Next Evolution in SEO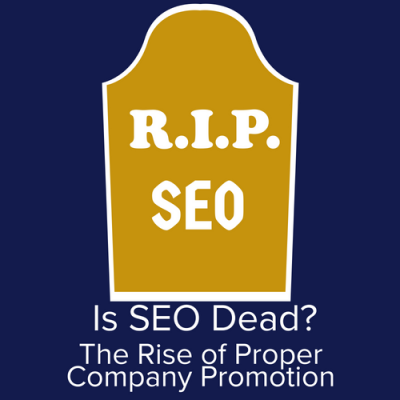 In the new-age of digital marketing, PCP stands for Proper Company Promotion. Think of PCP as the next evolution in SEO.
PCP is rapidly becoming the safest and most effective way to gain web traffic while improving search rankings. Today, we're doing to take a look at the difference between traditional SEO and PCP, and how your practice can stay on the cutting edge of digital marketing strategies so your website stays at the top of Google results and in front of potential patients.
A Major Change in SEO
SEO has transformed into something entirely different than what it used to be. SEO used to be all about creating the greatest number of backlinks. Backlinks are links on other websites that point (or "link") back to your website. Traditionally, backlinking was accomplished by posting on article sites, in blog comments, forum posts, and other outlets across the web. To further increase the number of backlinks, SEO companies and specialists would build entire new websites for the sole purpose of creating backlinks to the main website. While these "dummy" websites created the platform for the much-coveted backlinks, the problem was Google, and the internet users it served, couldn't tell which sites were legitimate authorities on a topic and which ones were just created to host backlinks.
In 2012, Google caught on to these techniques and changed their requirements. Now, unless a backlink generates traffic to your website, your ranking won't be impacted by that backlink. The question, "How can we create the most backlinks?" has been replaced with, "How can we drive traffic to our site?" The answer is by having information worth clicking on: does your site have interesting content that is relevant to the audience you want to attract?
The Rise of PCP
To be clear, backlinks are not bad. But with Google's new rules, backlinks must generate traffic in order for them to count toward your ranking. Think of it this way, PCP focuses on authentic and genuinely-earned web traffic. Instead of ranking based on the number of backlinks you have to your website, your website is ranked on if people click on links that lead to your site. These clicks show Google that people are interested in what you have to say. PCP may be more time consuming and labor intensive than traditional SEO, but the long-term value makes it well worth the effort.
So, what can you do? At PDA | Marketing Group we understand Google's new rules and work to ensure your site earns valid backlinks in the eyes of Google while giving you more exposure to your target market and enhancing your brand. Here's a look at some of the ways your website can earn authentic traffic from backlinks.
Online Advertising
Online advertising remains a legitimate tactic for driving traffic back to your website while promoting your practice and featured services. Placing ads on Google is a great option as Google looks kindly on your using their platform. And every time someone clicks on the ad and is taken to your website, Google is notified that people are interested in your website.
For example, at PDA ? Marketing Group we do this on a daily basis for our clients. Our team is trained and certified by Google and works solely in the dental industry to create compelling ads and offers to attract our clients' ideal patients. Each ad directs to a custom landing page attached to the website, so our clients' pay-per-click (PPC, not to be confused with PCP) programs not only helps convert potential patients into productive cases, but also help organically boost their websites in the eyes of Google.
Blogging
Blogging is still a great way to maintain your online presence, and now it may be more important than ever. Clicks on links to interesting, authoritative, and informative blog articles on your website tell Google your site is relevant. Blog articles should be shared across all social media channels as anyone who clicks on your blog on social media and is redirected to your website, boosts your exposure with Google. If you have a ForeverSite™ with us at PDA ? Marketing Group, you're already reaping the benefits of twice-monthly blog posts that are automatically pushed to your social media channels.
Special Events & Community Outreach
"Local dentist donates dental care to people in need." A headline like this in your local newspaper (and their online edition), would be a great boost for your practice. You may not think of hosting or sponsoring special events immediately when you think about digital marketing, but the truth is special events are PCP gold! Maybe you host your own event—think donated dental care, or an Invisalign® night, or an open house—or maybe you sponsor someone else's event or a local sports team. You could supply the awards, cover the cost of the equipment, or volunteer for a local charity with your team.
However you choose to get involved with your community—let the people know! Write up a press release with the details of your event or involvement with a mention of how it will benefit your community and include backlinks to your website. Distribute the press release to your local news outlets until someone picks up the story. (We can help with this.) Then, make sure any website that's involved with the event contains content about you and your practice and links back to your site. These are real, genuine links that Google will love, and will also drive real traffic to your website while generating brand integrity and awareness. It's a win-win-win!
Be in the Know
How can you tell if your website company is using good PCP techniques to drive traffic to your website?
Ask how they use backlinks to drive traffic to your site. Some good examples are through the Chamber of Commerce website, local news, local organizations, local schools (.edu link), having your dentist membership profiles filled out (ADA, AACD, WSDA.org, etc.), and product/services profiles.
Ask to see your analytics. Since the company started managing your online presence, have you had an increase in traffic to your site? Any increase in mentions and followers on your social media?
Working for You
If you're curious about the integrity and longevity of your website's online presence, including the use of backlinks, we would love to help you take a deeper look behind the scenes to find out if it's working for you or against you. If it's the latter, we can help you transition from the old SEO to the new PCP that's more about quality and longevity.
If you have any questions or would like to reserve your Complimentary Marketing Analysis, please fill out the form below. We look forward to helping you grow your practice!