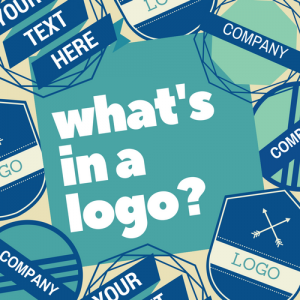 Did you enjoy our recent branding series? So did a lot of people! To answer some of your questions, PDA | Marketing Group Graphic Designer, Travis, takes a moment to clarify what a brand is and how it's built.
Like Travis said, your brand is much more than a name and a logo. It is what makes you distinct. It is the customer experience, and how you convey your value and trustworthiness to patients.  Your brand is who you are at the core: your team, your mission, your vision.
As you now know, branding is more than a logo. But your logo is usually how people distinguish you from the crowd.  Let's take a look at how a few logos convey a practice's core values.
Waterloo Heights
The owners of Waterloo Heights were looking for a logo that conveyed their values of respect, health, and trustworthiness which are relayed by the blues tones used in the font. The curling capital letters lend a sense of grandeur and prestige which portray respect and dignity. The swoop at the bottom is indicative of water, which helps underscore their name "Waterloo".
Swanson Valley
Swanson Valley firmly believes in family and a relaxed, welcoming atmosphere. The rich brown used in the main font adds a rich, earthy feel and, when combined with the teal of "Family Dentistry" creates a modern palate that could be found in any modern home. The most unique portion of their logo is the antler-styled "V" which adds a touch of rustic hominess, and solidifies their relaxed, welcoming vibe.
Des Moines Dental Specialists
Des Moines Dental uses a bright, sunny yellow as one of the main focuses in their logo. Yellow is a cheerful color that evokes feelings of optimism and happiness, and the gold tint to this shade of yellow carries the promise of a positive future. The icon in their logo combines the two "D"s from Des Moines and Dental into a stylized infinity sign which hints at the longevity and quality of their work. When combined, the colors and icon drive home Des Moines message of expertise, relationships, and pride in smiling.
Take the Next Step
Asking just anyone to craft your marketing materials often leads to disappointment and a lack of brand excellence. Our team staffs award-winning graphic designers and content creators to go beyond the standard advertising to focus in on your target audience to attract the right kind of patients to your practice.
At PDA | Marketing Group, we help dental practices align their visual promise with their culture to deliver the type of experience your patients come to expect. We can help you with your:
Culture Discovery Process– to flesh out your vision
Color Theory– to ensure your colors support and relay your vision
Logo Creation– to make your mark on everything you do
Stationery Package– to create appointment and business cards, letterhead, & envelopes
Get started on the right branding path today. Give us a call at (888) 732-2810 for your Complimentary Branding Assessment.