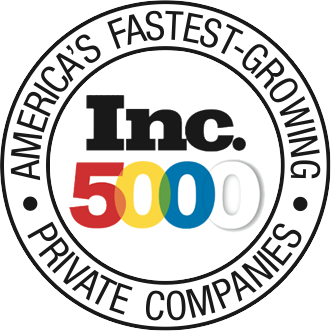 Anacortes, WA – August 2018 – Productive Dentist Academy (PDA) is being honored with a spot on the Inc. 5000 list of Fastest-Growing Private Companies in 2018. The 2018 listing celebrates PDA's position as #71 in the Education Industry category and #84 our of all Washington State businesses who made the list in 2018. This marks the 4th time Productive Dentist Academy has earned a place on the Inc. 5000 list, a feat only achieved by 17% of companies that make the list. PDA was previously honored in 2012, 2013, and 2014.
"Our mission is to have a positive impact on the lives dentists and their teams," said Dr. Bruce B. Baird, Co-Founder of Productive Dentist Academy. "Inclusion on the Inc. 5000 list is a great honor and validation that we are building up dentists and providing them with the tools they need to be successful practice owners. For it to be our fourth time on the list places Productive Dentist Academy, and the doctors we work with, in a league of our own for business and marketing."
Recognition as an Inc. 5000 company shows impressive percentages of revenue growth over a three-year period. Since 1982, the Inc. 5000 list has recognized the fastest-growing companies in the United States and only includes brands that have proven themselves with increased growth, revenue, and reputation within their respective industries. For companies seeking to rise as private business and business leaders, receiving recognition on the Inc. 5000 list is one of the most coveted honors. The list represents a unique look at the most successful companies within the American economy's most dynamic segment – independent small businesses. Microsoft, Dell, Domino's Pizza, Pandora, Timberland, LinkedIn, Yelp, Zillow, and many other well-known names gained their first national exposure as honorees on the Inc. 5000 list.
"If your company is on the Inc. 5000, it's unparalleled recognition of your years of hard work and sacrifice," says Inc. Editor-in-Chief James Ledbetter. "The lines of business may come and go, or come and stay. What doesn't change is the way entrepreneurs create and accelerate the forces that shape our lives."
Since 2004, Productive Dentist Academy has helped thousands of dentists across the nation increase productivity by equipping them with strategies to improve treatment planning, scheduling, and communication skills.
---
About Productive Dentist Academy
With a home office in Anacortes, WA and coaches located throughout the country, Productive Dentist Academy has been in operation since 2004. Through dental practice business consulting, continuing education, and full-service marketing, PDA has helped thousands of dentists across the United States build better practices and take better care of their patients. We work with General Dentists and Specialists from scratch-start practices, to mid-career slumps, to retirement options, to expansion and multi-practice owners to develop custom business development plans, while increasing productivity and decreasing stress. For more information on Productive Dentist Academy, call (360) 709-7765 or visit www.productivedentist.com.
---
For more information, please contact:
Regan Robertson
President
Productive Dentist Academy
(800) 757-6077
regan@productivedentist.com