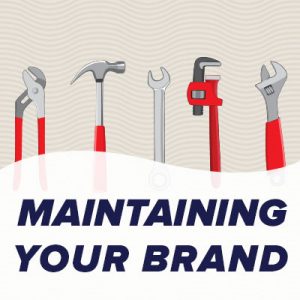 You're familiar with the "set and forget" home improvement items that are all the rage. While they may cut down on the time you spend maintaining your home, your brand is not a "set and forget" item. A brand is a living, organic thing that must be tended and nurtured. A dental practice that lives and breathes their brand is going to soar in comparison with one that doesn't.
(If you haven't already, read the first two parts of our branding series – Stop… Before You Brand and Building Your Brand – for deeper insight into creating a brand that tells your unique story and speaks to the customers you want to attract.)
Consistency
Consistency makes your brand recognizable. For example, do you always buy the same brand of coffee or shoes? That's because you know what to expect from that brand and you know you will like the product you're paying for.
Consistency gives patients a chance to get to know you, often before they step foot in your office. When they are given a consistent message across your website, social media, print materials, and physical location, it makes your brand, and your office, seem more dependable. When patients view you as dependable, they start to trust you, and trust is the secret to long-term relationships. So, make sure you're leveraging your brand to build that all-important patient trust.
Save a copy of your brand guidelines – colors, fonts, graphics, logos, etc. – somewhere easily accessible.
Choose a marketing company you trust that does good work and stick with them for as much of your marketing as they can handle. Using different companies for different products and services increases the chances that your material won't be consistent. Look for a company who does full-service, in-house marketing.
Get everyone involved. Make sure your team is aware of your brand guidelines, the purpose behind your brand, and how they contribute to the brand (from their uniforms, to how they answer the phone and relay information to patients).
Practical Application
Everything you do either reinforces or detracts from your brand. Consider this: do your hours, services, and financial options reflect your purpose and mission? Here are a few examples:
If your mission is to help the greatest number of patients, you should accept all insurance plans, offer flexible financing options, and have convenient office hours.
If you consider yourself a family practice, you should offer family appointment blocks, accept pediatric patients of all ages, and have kid's toys, movies, and books in your waiting area.
If your number one core value is complete dentistry for total health and wellness, you should be talking with your patients about their diet, lifestyle, and any health problems that may relate to their dental care.
Live Your Brand
Living your brand means fulfilling the promise you've made to your patients. To live your brand, it's important that it truly represents who you are. If your brand essence—your mission, vision, and core values—doesn't align with your own personal goals and values, it will be difficult to live that brand authentically in your daily practice. That's why building your brand in a way that aligns with who you are as a person, as a doctor, and as a practice is essential to your success and sense of fulfillment.
The most important thing to keep in mind with your brand is that everything about your business contributes to your brand: logos and colors, décor, how your team interacts with patients (and each other), what uniforms your team wears, the music playing in your office, everything. But at the most basic level, your brand isn't the work you do, it's how you do it. Once you've determined the details of your brand, you need to follow through daily. Tend to your brand and live it by constantly asking yourself, are we giving patients the experience we promised?
OUR GIFT TO YOU!
As we wrap up this branding series, we'd like to give you a whitepaper to help get you started on your branding journey. Click here to download. Don't forget, we're always here if you need us and we love helping dentists meet their branding and marketing goals!
At PDA | Marketing Group, we've got you covered from building to maintaining your brand and everything that goes into it—Foreversites™, direct mail, pay-per-click, referral programs, multi-media content, in-office tools, you name it. If you're looking for an award-winning marketing agency to help you build or maintain your brand and make your practice stand out from the crowd, we would be honored to serve you. Contact us at PDA | Marketing Group today for a Free Marketing Assessment or call (888) 732-2810.