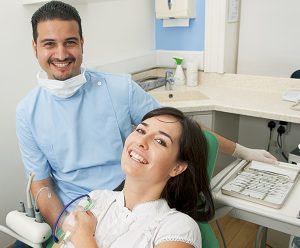 Storytelling is a great way to get your message across to your patients without yelling or "preaching" at them.  One message that is a constant challenge in any dental office is to explain why routine dental hygiene appointments are necessary.
This story helps answer the patient's question of "why should I worry about this appointment, it is only a cleaning and nothing hurts?"   This most often comes up when you contact patients who are overdue for their recall appointments.
First of all, express how glad you are that the patient isn't hurting, because usually, once you are in pain, the treatment is often more complicated and costly than if we had caught it before it started to hurt.  "It's like when you take your car in to have the oil changed.  Manufacturer's recommendation is every 3000 miles, but the car seems fine, so you can probably let it slide.  But in the next month, your engine light comes on, or there is trouble with your brakes, or maybe your windshield wipers just don't work as well as they should.  Now you go to the mechanic who has to give you the bad news about what is wrong with your car, and anytime one of those lights come on it is usually pretty serious, and it is never cheap.  But if you had gone for your regular maintenance and check up, the service technician could have identified that your oil filter wasn't working, or your coolant was low or based on your car's needs, when you should be prepared for new brakes or tires or even wiper blades.  That is what the hygiene appointments are all about for your mouth.  Sure, we clean your teeth, but we also take the time to check how your teeth are holding up to simple wear and tear of using your mouth.  And we want you to know as soon as possible if something isn't right or could, in the near future, become a problem so you are prepared and not surprised."
The mechanics give you the oil change, and they give you an action plan; for now and for the future.  That's what we do at a hygiene appointment.  And when you are in with the mechanic, and they tell you that you need to have your air filter changed, and you say no, not now, what is their reaction?  They are stunned!  They may even say, "are you sure?  Have I been clear with what will happen if you DON'T change this now?"  That's how passionate YOU have to be when you recommend treatment to your patients.  This is what we call, "assume the sale."  Be confident that you have explained their situation, the necessary treatment and the CONSEQUENCES of not doing the treatment.  Remember, you are the professional.  You take your car to a mechanic for their professional advice, and your patients come to you for yours.  It's THEIR problem, and you can help them fix it.
Again, as with any story, don't memorize it, but believe it and get comfortable saying it in your own words.  Practice with each other and like all stories, it is not about being perfect with your story, but put your personality and your enthusiasm into it and your patients will respond to your energy.